Your day captured your way.
You can guarantee Aunty Flo on her iPhone5 is 100% going to have the selfie camera on when you walk down the aisle, which will be *hilarious*, but if that's the film from your wedding day, you're going to be a little disappointed.
Your wedding day is only 24 hours, but film is forever. Why not make the best day of your life (so far!) live forever with a quality film that you and your family can enjoy for generations to come?
Follow Your Heart
Fall in love with the benefits of choosing our fun loving team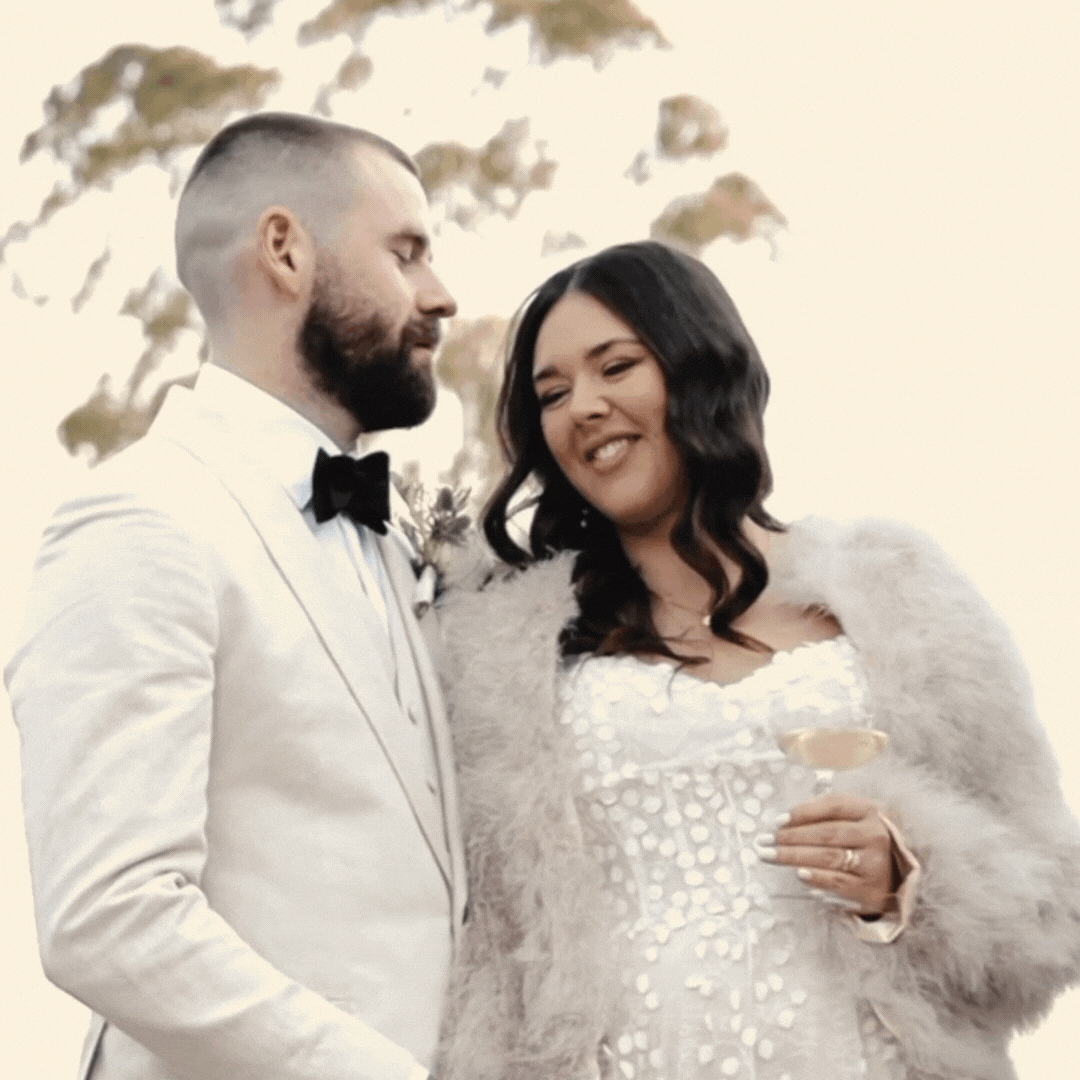 Every Detail Captured
We know how much work goes into making your wedding happen and that work ought to be recognised. From the wedding invitations and table dressings, to quiet moments as a couple, we'll capture everything.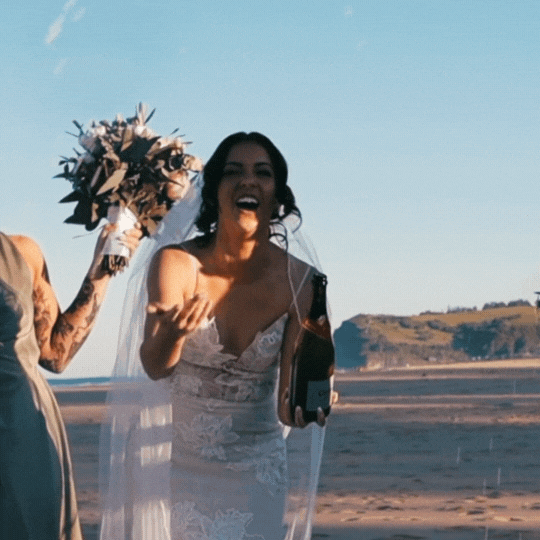 Laugh Til It Hurts
Our team aren't just local cinematic experts who know all the best spots to get the shot, they're also low-key comedians. Even the most nervous and uncomfortable will feel free to shine on camera with us.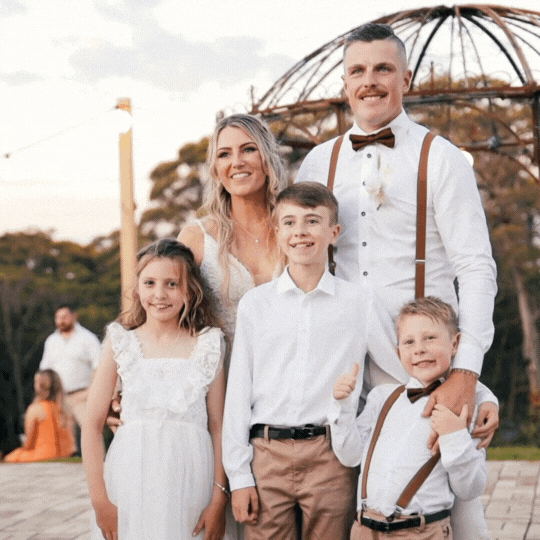 Love Your Story
Our videographers are our editors so they know, first hand, the story they are telling from their experience on the day. It will be honest, it'll be beautiful, but most importantly, it'll be yours and you'll be proud to share it.
Kiss & Tell
Hear our happy couples spill the secrets behind their unforgettable moments, sharing candid and cheeky testimonials that reveal the real love stories captured through our lens.

"Michael was the videographer at our wedding last year and I can't recommend him enough ! His attention to detail, fun presence and professionalism made him the perfect person for the job. The end result is something my husband and I will treasure forever. Thank you Michael !"​
Madi Watson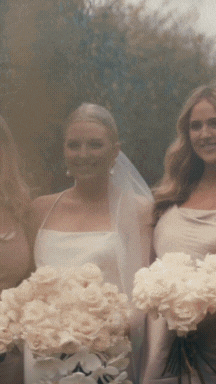 "Thank you so much for being part of our perfect and loving day. Just goes to show that all you need is love and everything just falls into place. Thank you so much for this beautiful memory. "​
Rachael Hulomyer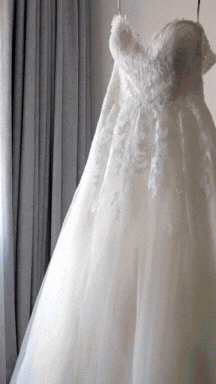 Thank you so much Artiste Films! You are incredible ​
Sara Holz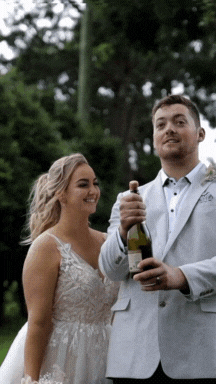 "You are an absolute legend Michael, I don't know what else to say ​​
Jess Tomlin-Shearer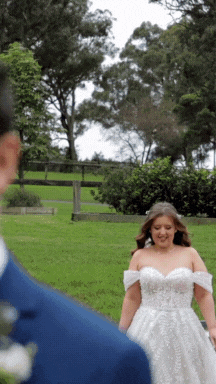 "OMG!!!! Michael, this is so amazing!! We watched this 4 times straight up!! Thank you so much! We absolutely can not wait to see the full vid!!"​
Emily Heyhorn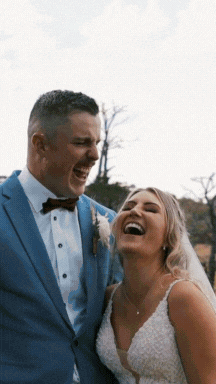 Thank you sooooooooooo much!!!! Honestly the best ever It's so wonderful being able to relive the day
Ruby Bollom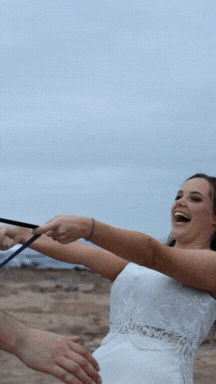 Thank you so so much! Just watched the highlights and it's incredible! Absolutely love the video and can't wait to watch the long one over the weekend!​
Adelaide Skelly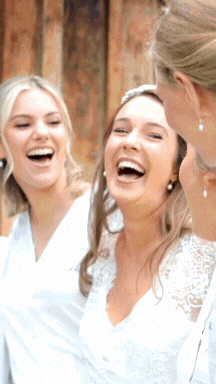 That video was AH MAZING! We love it!! Thankyou so much 🙂 You've been the absolute best to work with
Sarah Thurston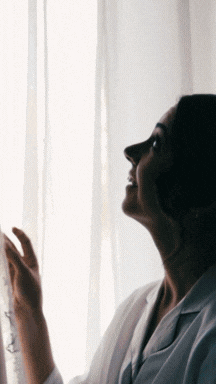 Features
Another Simple and easy way to show your content with less gap. Grab user attention in a more productive way.
Our Packages
Get ready to say 'I Do' with packages catering to every visual need.
6 Hours Coverage
1 Videographer
60 Second Social Media Teaser
5 - 10 Minute Social Media Highlights
Digitally Delivered
Footage Archive Lifetime Guarantee*
Full Edit Upgrade Any Time**
8 Hours Coverage
1 Videographer
60 Second Social Media Teaser
5 - 10 Minute Social Media Highlights
Full Day Edit
Digitally Delivered
Footage Archive Lifetime Guarantee*
10 Hours Coverage
1 Videographer
60 Second Social Media Teaser
5 - 10 Minute Social Media Highlights
Full Day Edit
360 Video Photobooth
Digitally Delivered & Footage Archive Lifetime Guarantee*
*Artiste Films guarantees the storage of wedding video footage for the lifespan of the external disc drive it is stored on.
**Editing upgrade available upon request at extra cost.
Pricing Guide
Navigating our Wedding Videography pricing with Ease!
On Peak Season
(Jan-Mar, Oct-Dec):
01/01/2024 - 31/03/2024,
01/10/2024 - 31/12/2024
Off Peak Season
(Apr-Sept):
01/04/2024 - 30/09/2024
All pricing includes GST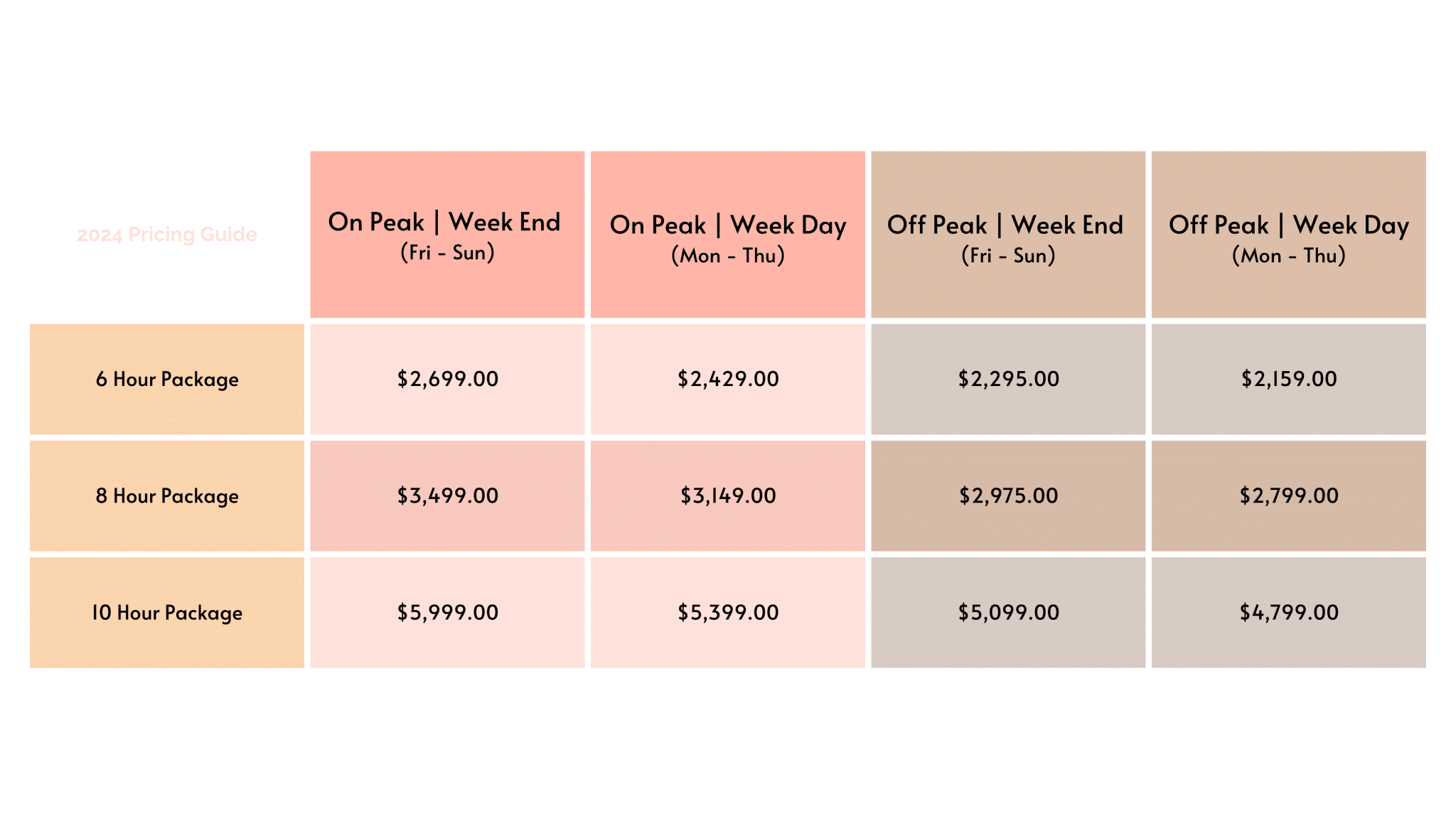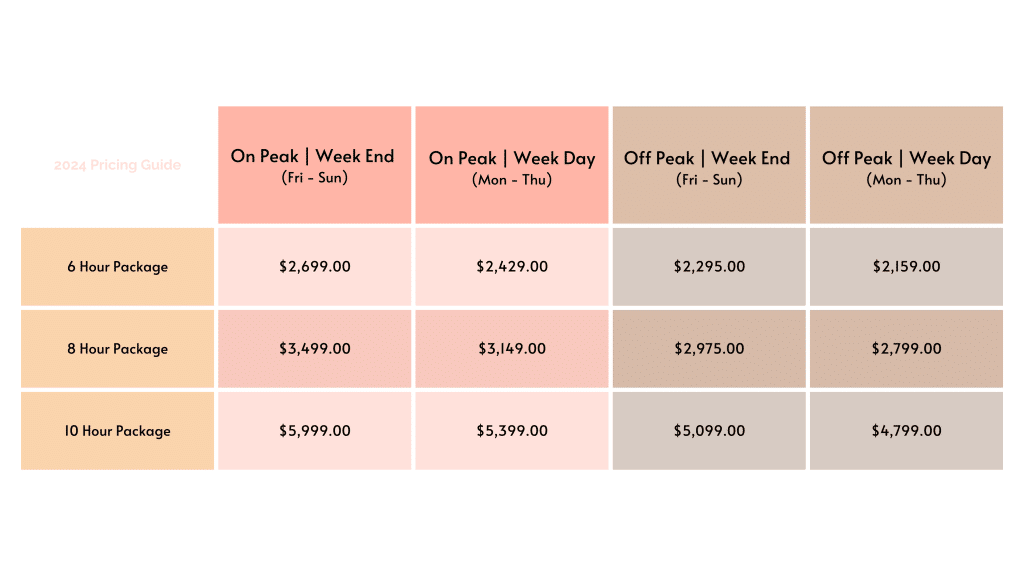 Discount Guide
Save up to 15% on any booking with these 3 tricks!
5 Referrals
Get 5% Cash Back when 5 referrals from your wedding book with us!
(Each referral equivalent to 1%)
Reviews
Get 5% Cash Back when submitting:
1 Facebook Review
1 Google Review
1 Video Review
You could save up to $899.85!
(when you book the 10 Hour Package On Peak, Weekend)
Let's make the magic happen!
This is what you came for...
We'll let the work speak for itself…
Add Ons
From Vows to WOW: Elevate your Wedding Video with these amazing Add-Ons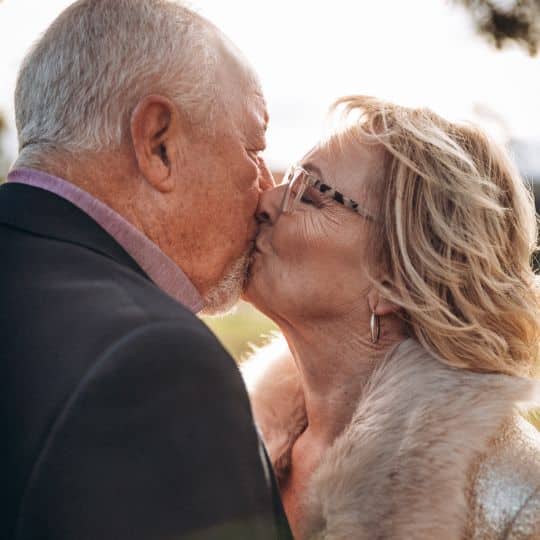 Photography
Complete your wedding visuals with our Photography Add-Ons that will capture every candid grin, stolen kiss, and dance floor twirl! 📸✨ Our lens wizards offer three enchanting packages starting at $1100.00 inc GST, Whether it's capturing the 'I do's' or the 'just married' getaway car, our Photography Add-Ons bring a touch of magic to your memories, leaving you with a treasure trove of laughs, love, and a few fabulous poses!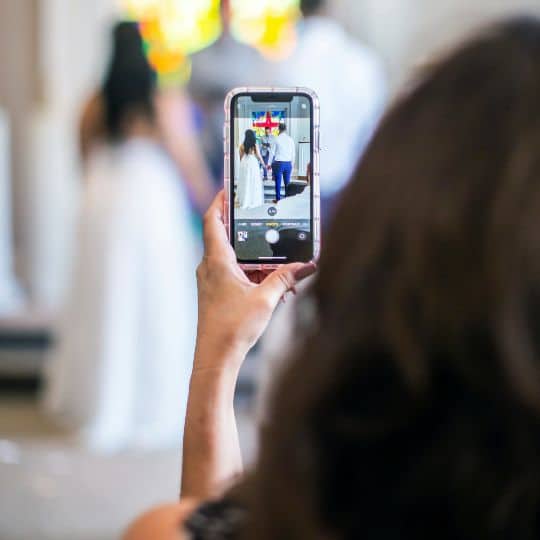 Content Creation
Introducing our Content Creation Add-Ons, where our expert storytellers turn your wedding day into shareable gold for your social media pages! 🎥🌟 Say goodbye to blurry selfies and hello to professionally shot, ready-to-post content that'll have your friends and family hitting that 'like' button in a frenzy with three fantastic packages to choose from, starting at just $990.00 inc GST. Get ready to hashtag your way to wedding fame with our Content Creation Add-Ons – because your love story deserves a standing ovation on every feed!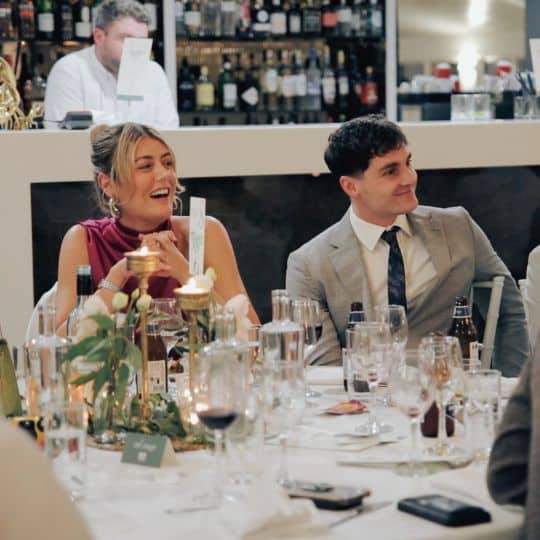 Same Day Edit
Unveil the magic of your big day with our Same Day Edit Add-Ons, where our talented videographers craft a jaw-dropping up to 3-minute highlights reel that'll leave your guests cheering for an encore! 🎬🍿 Prepare to bask in the spotlight as your love story unfolds in cinematic splendor right before your eyes. With our Same Day Edit Add-Ons starting at $2200.00 inc GST, your reception will be buzzing with the kind of excitement usually reserved for blockbuster premieres. It's like having your own red carpet moment, but with more cake and confetti!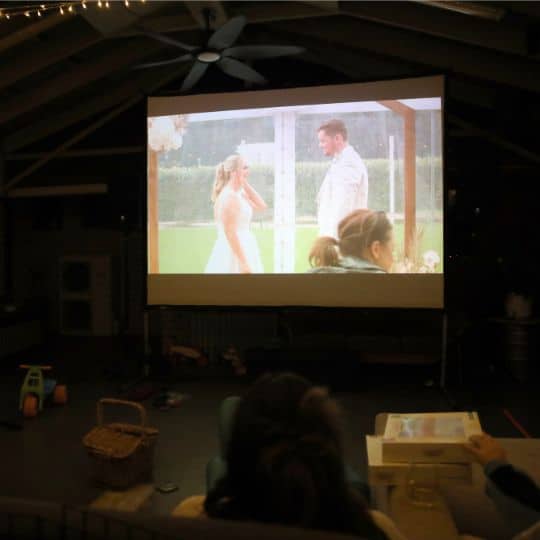 Relive the Experience
Anniversaries Just Got Epic: Introducing our 'Reliving the Experience' Add-Ons – where we bring back the magic of your big day in a grand cinematic spectacle that'll have you dancing down memory lane all over again! 🌟🎥 Picture this: twinkling festoon lights, a projector that brings your love story to life, and a screen that's bigger than your heart's capacity for joy. It's the full wedding film experience, but with a side of popcorn and the cozy embrace of nostalgia. Starting at $2500.00 inc GST, our 'Reliving the Experience' package is the ultimate anniversary surprise that guarantees 'oohs,' 'ahhs,' and plenty of happy tears. Get ready to relive every vow, every laugh, and every magical moment with a dash of movie magic – because who says the wedding can't have an encore?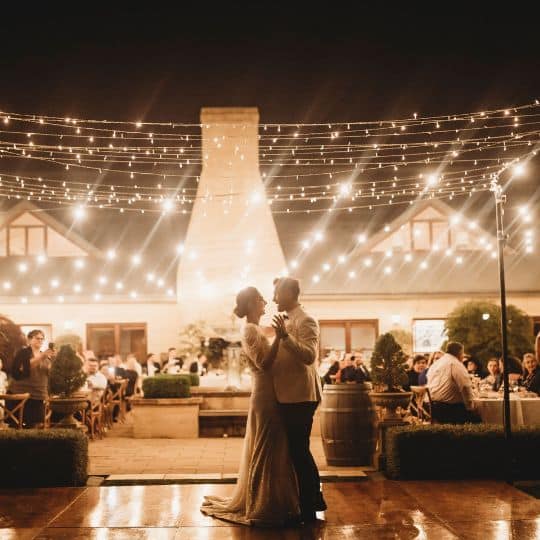 Lighting and Audio
Let There Be Love and Laughter – Illuminated and Amplified! Introducing our Lighting and Audio Add-Ons, where we sprinkle your wedding day with a touch of enchantment and ensure your 'I do's' are heard loud and clear, even by the moon! ✨🎤 From fairy lights that twinkle like your smiles to festoon lights that dance to the beat of your hearts, we've got a range of dazzling options that'll make your venue shine brighter than your love story. Not to mention, our sound system that turns speeches into showstoppers and music into heart-pounding anthems. With fully customisable packages starting at $2500 inc GST, our Lighting and Audio Add-Ons are designed to make your big day not just picture-perfect, but pitch-perfect too! Get ready to set the stage for your 'happily ever after' in a way that's as magical as it is melodious.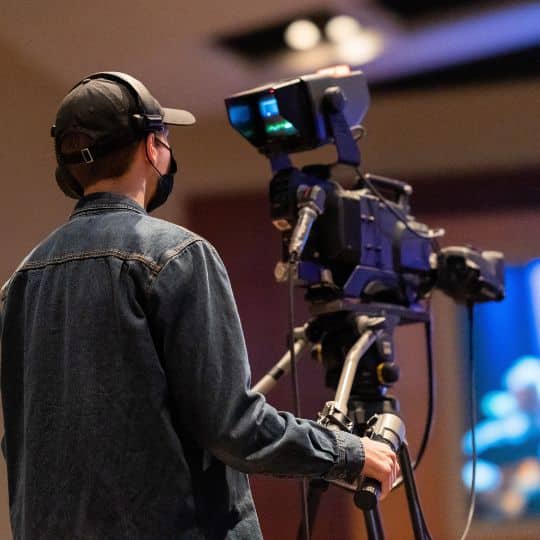 Live Streaming
Uniting Hearts Near and Far! Introducing our Live Streaming Add-Ons, where you can say 'I do' to a virtual audience of family and friends from around the world, without them needing to change out of their PJs! 🌍💍 Whether it's the Ceremony, the Reception, or both, we've got packages that'll bring your celebration to screens everywhere, from Youtube to Zoom and Facebook to the farthest corners of the internet. Starting at $2200 inc GST, our fully customisable Live Streaming Add-Ons make sure that distance isn't a downer when it comes to your special day. Get ready to exchange vows, raise toasts, and share unforgettable moments with an online audience that'll be clicking 'like' and sending heart emojis faster than you can say 'happily ever after'!
Frequently Asked Wedding Questions.
I dare you to find a question we HAVEN'T answered!
Should I get video for my wedding?
A wedding video captures the authentic, heartfelt moments that make your special day truly unforgettable. Artiste Films' timeless storytelling approach: We craft wedding films with quality equipment and a focus on your unique love story, steering clear of trendy edits that might age like yesterday's memes. 
Personalised and unique films: Our goal is to create a wedding video that reflects your love story and personalities, ensuring a one-of-a-kind experience. 
Busting the myths: Addressing common concerns about intrusiveness, equipment, and cost with a touch of humour and reassurance. 
The grand finale: Remember, relive, and rejoice. Don't miss out on the chance to capture your love story in motion. 
Answer: Lights, camera, action! 
Your wedding day is like a blockbuster film, and trust us, you don't want to miss out on the video coverage. It's like having your very own rom-com that you can watch whenever you want, tissues at the ready! Why do we say this? Because a wedding video captures the raw emotions, heartfelt speeches, and joyful tears that can't be replicated. It's your front-row seat to relive the magical moments, letting you feel the love and laughter all over again, even when the cake is long gone (and trust us, it will be). 
At Artiste Films, we're all about timeless storytelling. We believe in capturing your love story in a way that stands the test of time. While trendy editing techniques like wild fonts, freeze frames, or the latest pop hits might seem cool now, they can quickly become as outdated as that questionable fashion choice from your teenage years. We're talking about those bedazzled jeans you thought were the epitome of style. Remember those? 
Instead, we focus on quality equipment and a personalized approach. We want your wedding video to be as unique as your love story. No cookie-cutter films here! Our team takes the time to understand your vision, your personalities, and the quirks that make your relationship sparkle. We'll craft a wedding film that showcases your love in all its splendor. 
Now, let's address some concerns you may have. Worried about a videographer turning your wedding into a Hollywood production? Fear not! Our team of professionals knows how to blend seamlessly into the background, capturing those candid moments without interrupting the flow of your day. We'll be more like stealthy ninjas, armed with cameras and a passion for storytelling. And let's talk about the equipment. 
We're not lugging around clunky gear from the Stone Age. Our sleek and modern equipment allows us to capture every detail in stunning clarity. Say goodbye to grainy footage and hello to crystal-clear memories. "But what about the cost?" you might ask. We get it. Weddings can be expensive, and you're probably juggling a million different things on your budget list. But consider this: a wedding video is an investment in your future. It's a way to celebrate your love and share it with generations to come. 
Trust us when we say that those tear-inducing moments caught on camera are priceless. At the end of the day, there's only one true way to answer your question. Book a wedding video with me today! Let us capture the magic, the love, and the laughter of your special day, creating a cinematic masterpiece that will transport you back to that day whenever you press play. Simply fill out our Booking Form and let's create a film that will make your heart skip a beat. Lights, camera, happily ever after!
What's the average length of a wedding video?
Planning your dream wedding involves making countless decisions, and one question that often arises is the average length of a wedding video. 
As an independent wedding video specialist serving the Southern Highlands and South Coast of NSW, I understand the significance of capturing the essence of your special day while ensuring the video is engaging and enjoyable. In this article/video, we'll delve into the average length of a wedding video, while also introducing our tailored video packages designed to preserve your cherished memories. 
Social Media Teaser: Engage Your Audience (Approx. 60 seconds) In the era of social media, we understand the importance of captivating and shareable content. That's why our packages include a 60-second social media teaser, providing a glimpse into the magic of your wedding day. This teaser encapsulates the highlights, the emotions, and the joy, leaving viewers eager to experience more. 
Highlights: Relive the Memories (Approx. 5-10 minutes) Our wedding video packages also include a captivating highlights video, lasting approximately 5-10 minutes. This carefully curated compilation showcases the most significant moments of your wedding day, creating a cinematic experience that beautifully encapsulates the essence of your celebration. With artistic storytelling and attention to detail, our highlights video allows you to relive the emotions and joyous memories for years to come. 
Full Film: Preserving the Ceremony and Speeches Depending on the package you choose, we also offer a full film of your ceremony and speeches. This ensures that every heartfelt word, every precious exchange of vows, and every moving speech is captured in its entirety. The duration of the full film will vary based on the length of your ceremony and speeches, allowing you to revisit these cherished moments in their unedited, raw beauty. 
Conclusion: These edits we offer are in line with the industry average for wedding video lengths, but it's important to consider your unique preferences and the story you want to tell and so custom options are available upon further discussion. We offer tailored video packages that include a 60-second social media teaser, a 5-10 minute highlights video, and a full film of the ceremony and speeches, depending on the package you choose. We understand the significance of preserving your cherished memories, and our experienced team is dedicated to creating a wedding video that beautifully encapsulates your special day.
Make the magic last forever!
Privacy Policy
Effective Date: 1st September 2023
Artiste Films is committed to protecting your privacy and ensuring the security of your personal information. This Privacy Policy outlines how we collect, use, and safeguard the information you provide to us through the Wedding Video Enquiry contact form.
Collection and Use of Personal Information: We collect personal information through the Wedding Video Enquiry contact form for the purpose of providing wedding video services. We only gather information that is necessary and relevant to deliver these services.
Anonymity and Pseudonymity: While you have the option to remain anonymous or use a pseudonym for general enquiries, we may require specific personal information for identification and contract purposes when providing our services.
Sensitive Information: We may ask for sensitive information only when necessary, and we treat such information with the utmost confidentiality.
Unsolicited Information: Any unsolicited personal information we receive that is not necessary for our functions or activities will be destroyed or de-identified promptly.
Notification: We will inform you about the collection of your personal information and its intended use at or before the time of collection.
Use and Disclosure: We use and disclose your personal information solely for the purpose of providing wedding video services or related purposes. We may also share information with trusted third-party service providers who assist us in our services.
Direct Marketing: We may use your personal information for direct marketing purposes if you've provided consent or if permitted by law. You can opt-out of such communications at any time.
Cross-border Disclosure: We do not disclose personal information to entities overseas unless we've ensured their compliance with Australian privacy laws or obtained your consent.
Government-Related Identifiers: We do not adopt, use, or disclose government-related identifiers for identification purposes, unless required by law.
Accuracy and Currency: We take reasonable steps to ensure the accuracy and currency of the personal information we hold.
Security: We employ security measures, including secure servers and password protection, to safeguard your personal information from misuse, loss, interference, and unauthorized access.
Access and Correction: You can request access to your personal information held by us. We will respond within a reasonable time and provide access, unless there are legal grounds for denial.
Contact Us: For any questions, concerns, or complaints regarding our Privacy Policy or practices, please contact us at [Insert Contact Information].
Updates: This Privacy Policy may be updated periodically to reflect changes in our practices. The updated version will be available on our website with the effective date.
Last Updated: 1st September 2023
You may choose to prevent this website from aggregating and analyzing the actions you take here. Doing so will protect your privacy, but will also prevent the owner from learning from your actions and creating a better experience for you and other users.